Start your Ohio home study with PairTree professional: JustChoice (Choice Network)!
Meet Just Choice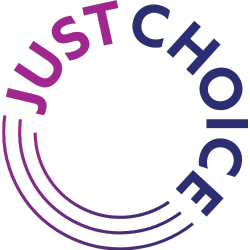 We were founded on the principle that a pregnant person cannot make an ethical adoption decision without having access to all their pregnancy options, including abortion. Now, we are one of the only organizations nationwide that is recognized and supported by the pro-choice movement because of our support for abortion care, in addition to our adoption and parenting programs.
We offer all-options pregnancy counseling and full spectrum supportive programming for pregnant people. We listen without judgment, support with compassion, and provide unbiased educational tools and resources based on the choices you make.
We know that low-income people and people of color are more likely to face an uphill battle when trying to access safe and quality healthcare, including early prenatal care and postpartum support. We strive to continually improve our outreach and connection to these communities to help support those who need us the most.
We also honor the rights and freedoms of LGBTQIA+ people, including their right to create families. We stand firm in our support of all families and take pride in our work connecting LGBTQIA+ individuals and couples with all of their options for building a family.
What are families saying about JustChoice?
"We couldn't imagine our adoption journey without the support, guidance and dedication of Choice Network. The team was available to encourage us when we felt discouraged and listen when we needed a shoulder to lean on. The training we received has helped us grow a passion for open adoption and letting love lead the way. Speaking of love, that is the one word that stands out as the motivation and mission behind everything they do and everyone they work with, regardless of background or circumstance. I can confidently say you are in wonderful hands by choosing Choice." - Google Review
"We are a current family seeking to adopt and Molly and the rest of the Choice team have been nothing short of fabulous. Finding a prochoice, LGBTQ+ agency was so important for us and we are so happy to have found Choice. Choice cares for all pregnant people throughout their journey and beyond!" - Google Review
Ready to get started?
1) Download and fill out the JustChoice Application.
Important: This application must be fully complete in order for JustChoice to accept it. All spaces need to be filled in. Please write N/A when applicable.
2) Email it to homestudy@pairtreefamily.com.
Once your application has been reviewed, PairTree will get in touch with you about next steps.
Learn more about PairTree Home Study
Discover how PairTree can support you on your adoption journey!