We partner with licensed home study providers in your State and pack the process full of perks for you.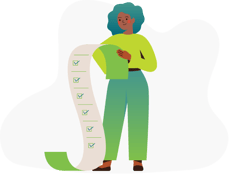 1. Fill out your application
To get started, simply complete an application for the home study provider we partner with in your State:
Find your application by State.

2. Select your home study package
Once your application has been accepted by the home study provider in your state, you can select your home study package: Home Study Core or Complete.
3. Pay your invoice
After your package decision, we'll send the invoice. Paying your invoice is what guarantees your spot in your provider's caseload and opens up access to your dashboard. (We'll save your spot for two weeks)
4. Complete the tasks on your dashboard
Once your invoice is paid, we'll give you access to your personalized home study dashboard that includes a step-by-step task list with digital forms, digital reference requests and a safe, secure, HIPAA-compliant place to upload your required documents.
5. Host a home visit
You and your home study provider will agree on a date and time for a visit. The home visit is a chance for your home study provider to get to know you, take a tour of your home, assess any safety concerns, get your questions answered, and go over your required documents. (How to prepare for your first home visit)
6. Celebrate! 🎉
Your provider will review the final home study report with you (and in some States, ask you to sign it). Once approved, you'll receive a confirmation letter to upload to PairTree Connect (if applicable) and send to any other professionals supporting your adoption journey.
Have questions?
Schedule a free virtual meeting here to learn more about the process, ask questions, or just chat about adoption in general. It's casual, so come as you are!
Prefer to email? Send us a message at homestudy@pairtreefamily.com.